Mr. Saptari Hoedaja
Chief Executive Officer
Saptari Hoedaja is a graduate from Bandung Institute of Technology (ITB) in 1983, holds degree in Mechanical Engineering. He served as the President Director of PT Kaltim Prima Coal and PT Arutmin Indonesia Since the mid of 2011. He is also served as the Chief Executive Officer of PT Kaltim Prima Coal since at the end of 2014.
---
Mr. Muhammad Rudy
Chief Operating Officer
Graduated from University of Sriwijaya, holds a degree in Mining Engineering. He joined PT.Kaltim Prima Coal in 1992. He has wide experiences in mine operation, mine planning, mine economic and valuation. Prior to current position, he held various roles in KPC as Superintendent production, Superintendent Business Analyst, Manager Mining Contract, and General Manager Contract Mining of which controlled and managed KPC mining contractors. M. Rudy has been the Chief Operating Officer (COO) since November 2014. He is also as KPC Chief Mining Technical up to present.
---
Mr. Ashok Mitra
Chief Finance Officer
Ashok who was the General Manager Finance of The Tata Power Company Limited, Mumbai India, was transferred to Indonesia in August 2007 as Chief Financial Officer of PT Kaltim Prima Coal when Tata Power took a 30% stake. At present he looks after Finance and Commercial, Supply Chain Management and Business Improvement. Under his guidance a number of measures have been taken to reduce cost of production. He is also associated with the expansion plan presently being undertaken by the company. He is a Chartered Accountant and a Company Secretary from India having worked with Tata Group since 1985.
---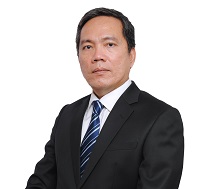 Rahmad Desmi Fajar
General Manager Strategic Business Development
Graduated as Accountant from Padjadjaran University; also Master of Science on Energy Trade &  Finance from Cass Business School, London, UK; and Master of Law (Business) from University of Indonesia.  While in KPC he also participated in professional development programs such as Rio Tinto Young Professional Program, LEAD (Leadership on Environment and Development) International, and Chevening  Scholarship. Joined PT Kaltim Prima Coal in 1997 as GDP Accounting, then subsequently on various roles in Finance, Corporate and Marketing before promoted to General Manager Strategic Business Development in 2018.
---
Mr. Wawan Setiawan
General Manager External Affairs & Sustainable Development
Wawan Setiawan is a graduate from University of Padjadjaran Bandung and holds a degree in Anthropology. He joined PT. Kaltim Prima Coal in April 2003. He has wide experiences in many positions related to community relations. Prior to current position, he had various roles in KPC as Specialist Public Relations, Superintendent Community Relations, Superintendent Community Support, and Manager Bengalon Community Relations and Development of which managed and ensured the operations and KPC program in Bengalon running well. Wawan Setiawan has been the General Manager External Affairs and Sustainable Development (GM ESD) since May 2016.
---
Mr. Asmit Abdullah
General Manager Supply Chain
Mr. Asmit Abdullah is graduate Civil Engineer from University of Sriwijaya. He has extensive experience over 19 years in various positions within KPC. He started join KPC in 1994 a Civil Engineer in Mine Civil Section. He was seconded to Minenco Pty LTD in Australia in 1997, then in 1999 he was appointed Superintendent Mine Rehabilitation & Civil. From 2002 until 2004 he holds the position as Manager Infrastructure and Civil Projects. In late 2004 he was appointed Performance Improvement Project Leader for one year then appointed as Manager Infrastructure, Civil and Improvement Projects until 2006. From 2006 to 2013 he was appointed as Manager Coal Processing Plant. In December 2013 he was appointed GM Coal Processing & Handling Division. In June 2015, he was appointed GM Supply Chain Division.
---
Mr. Adri Kurnia
General Manager Legal
Adri Kurnia was promoted to General Manager Legal in December 2014. He was KPC's first in-house attorney when recruited as Manager Legal in 2008. Before joining KPC he worked with several Jakarta based law firms. He actively involves at and serves as Legal Committee Chairman of the Indonesian Coal Mining Association (ICMA-APBI) and Legal Committee Deputy Chairman of the Indonesian Mining Association (IMA). He is member of PERADI, the Indonesian Bar Association and an associate of the Chartered Institute of Arbitrators (CIARB). Adri Kurnia obtained his master of laws degree in 2014 from the University of Indonesia and earned his first law degree from the University of Padjadjaran. He frequently speaks at national and international seminars with regards to mining law related matters.
---
Mr. Khudori
General Manager Human Resources
Khudori joined the Human Resource and Development Services (HRDS) department at KPC in 1995. In 2002, he was promoted to the position of Manager HRDS. KPC established the Safety Improvement Committee (SIC), a team lead by the Managing Director and including all General Managers in 2002. Khudori was the only manager in the committee and it was during this time he received extensive hands on experiences and developed an understanding of the strategic direction of the KPC safety management system. He was then transferred to the position of Manager Occupational Health and Safety before he was appointed as General Manager Health Safety and Environment in 2006. In 2009, Khudori was appointed as General Manager Human Resources.
---
Mr. Hendrawan
General Manager Business & Performance Improvement
Hendrawann graduated from Bandung Institute of Technology (ITB), hold degree in Mechanical Engineer (1990). He joined Kaltim Prima Coal in 2007 as Maintenance Manager – Mining Support Division. He held position as Maintenance Services Manager and then Haul Truck Maintenance prior to be promoted as GM Business Performance Improvement Division in April 2014. Before joining KPC, he worked for PT International Nickel Indonesi (PT INCO) for 16 years in various positions within maintenance.
---
Mr. Immanuel Manege
General Manager Health Safety Environment & Security
Imanuel Manege graduated from Mulawarman University Samarinda (Unmul), hold degree in Forestry Engineer (1989). Before joining KPC, he worked for PT. Porodisa Trading & Industrial CO, LTD as Manager "Perencanaan dan Pembinaan Hutan" for about 5 years. He started working at KPC since 1994 as Engineer Environmental, and in 1997, his position was reclassified to Senior Engineer Environmental. He was promoted to Superintendent Reclamation in 1998, and in 2003, promoted to Manager Environmental. In 2009, he was appointed to GM Health Safety Environmental & Security.
---
Mr. Armstrong Tobing
General Manager Contract Mining
Armstrong Tobing graduated from Bandung Institute of Technology (ITB), holds degree in Civil Engineering (S1) and Geotechnical Engineering (S2). He joined Kaltim Prima Coal as Geotechnical Superintendent in 2001. He held position as Manager Mining Contract for Bengalon since 2008 prior to be promoted as General Manager – Contract Mining.
---
Mr. Herlan Siagian
General Manager Marketing
Herlan Siagian joined KPC in 1993 after gaining his degree in Mining Engineering in Australia. He commenced his career as a Mining Engineer. After a number of years in the mining field, he joined the Marketing Division gaining wide experience in the sales operation and marketing areas. In 2001 he transferred to Pacific Coal (Rio Tinto Group) as Marketing Manager based in Brisbane, Australia for over two years. Upon returning to KPC, he continued working as Marketing Manager to market KPC coal for all regions worldwide. In October 2005 he was appointed as General Manager Marketing.
---
Mr. Rio Supin
General Manager Business Development and Risk Management
Rio has been serving KPC since November 1999 starting his career as Graduate Accounting and subsequently climbing up the ladder of his career with the last position as Manager Accounting & Tax before promoted as GM Finance in May 2012. In 2020, He assumed a new position as GM Business Development and Risk Management. He holds degree in Accounting from University of Sriwijaya with wide experience in accounting & tax, treasury, assets management & financing.
---
Mr. Hendro Ichwanto
General Manager Mining Operation Division
Graduated from University Pembangunan Nasional (UPN) "Veteran" Yogyakarta, hold a degree in Mining Engineering. Joined PT. Kaltim Prima Coal in 1997. Has been experienced in various roles within mining operations prior to his promotion to the position of GM Mining Operations in August 2012. Highlight of career with KPC are Mine Manager of Pit Hatari, Superintendent Drill & Blast, Superintendent Pit Technical. Starting career in KPC as Mining Engineer.
---
Mr. Untung Prihardiyanto
General Manager Mining Support Division
Before joining PT Kaltim Prima Coal he has a various experience and roles in heavy equipment maintenance and management from timber industry and also from oil refinery contractors. He is now responsible for Mining Support Division which includes maintenance management on all heavy and mobile equipments operating by PT Kaltim Prima Coal such as diggers, trucks, heavy equipments, support equipment and it's facility and also fuel distribution to all those fleet. Untung Prihardiyanto holds degree in Economic Management from 17 Agustus University.
---
Mr. Poltak Sinaga
General Manager Coal Processing & Handling
After spanning over 17 years of his career in KPC, starting as a Graduate Mechanical Engineer, in 2015 Poltak Sinaga was promoted to the post of General Manager of Coal Processing and Handling Division. Poltak Sinaga has vast experience in project management, operation management, and asset management. He brings a proven track record in the operation, maintenance and engineering of bulk material handling and fixed plant from pit to port. From 2004 to 2013 he successfully led the execution of multi-discipline brown field and green field projects at crushing facility, overland conveyor, coal terminals, and port facility which were parts of expansion program of KPC operation bringing the throughput increase for more than three times during that period. Poltak also worked on a numbers of assignment associated with operational optimization, business process improvement, and strategies across KPC. Poltak Sinaga graduated from Institut Teknologi Bandung in 1997 with a bachelor degree in Mechanical Engineering and earned his MBA from the same university in 2015.
---
Mr. Arif Rusmin
General Manager Mining Development
Arif Rusmin is a Bachelor of Mining Engineering from Sriwijaya University and a Master of Management from Mulawarman University. He joined PT Kaltim Prima Coal in 2001 as a mining engineer. He has extensive experience in the fields of mine planning and mining economic evaluation. Before serving in his current position, he hold various role at KPC as Superintendent Five Year Planning and Mine Planning Manager. He also holds the Indonesian Competent Person (CPI) certificate as an expert in estimating coal reserves. In addition, he is also registered as a member of the Australasian Institute of Mining and Metallurgy (AusIMM).